Our top 6 considerations, including colour matching and choosing colours online
Concrete is no longer just grey, there is a range of colours to choose from. How do you know which is the best colour for your home? Whether it's a new driveway, pool surrounds, outdoor entertaining space or internal polished concrete floor you are looking to build, choosing a colour that you will love for years to come is important.
There are a few important things to consider when selecting the colour for your decorative concrete. We've put together this guide to help you with your Concrete Colour Systems colour selection.
Colour matching
When looking at different colours and textures for your home, whether you are building or renovating, there are a variety of places you can find inspiration. The natural environment around you can be a big influence on colour, from the ocean to the country and mountains.
Deciding on the colour for your concrete can be difficult, you may like the concrete to either match or contrast with the existing house colour scheme. Many customers tend to choose neutral shades of colour for their decorative concrete, with bright colours used as features. Consider the number of colours in your scheme, if there are too many it could be overwhelming; while focusing on one colour can create a washed-out effect in your home and detract from its features. It is also important to consider the tone when looking at neutral colours like grey. Different tones of grey pigments can completely change the look of the area and surrounding environment. CCS offers a range of warm (brown), cool (blue) and neutral tones of grey pigments, below is an example of the difference between the tones.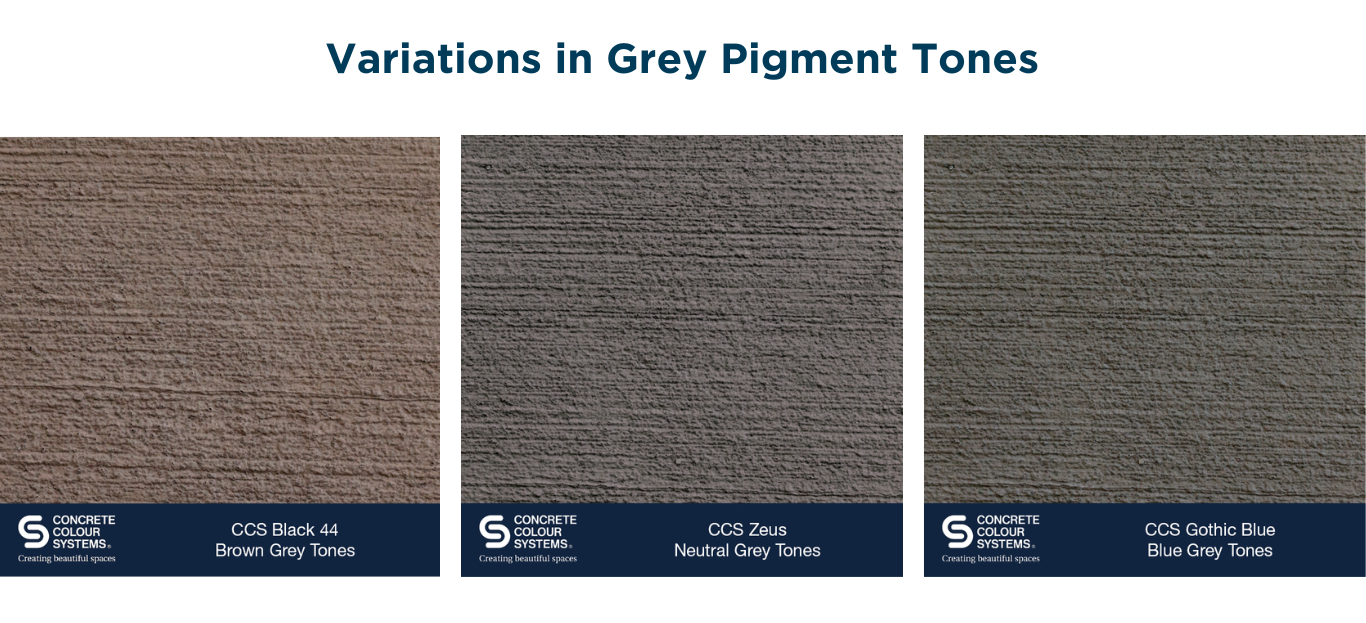 If you would like the colour to match your Colourbond roof or Dulux paint, it is possible to find a similar colour, however, it will never be an exact match. The reason for this is concrete is a live product with multiple ingredients that can vary even the slightest amount which impacts on the final colour.
Choosing colours online
When choosing a colour for your project we strongly recommend you use a physical, true-to-life colour card. The colours within the card are small swatches with genuine colour-matched concrete brushed onto them. The reason for this is, each digital screen can produce a different version of your chosen colour and they all will look very different to when the concrete is finished.
All monitors, computers and phones display colours slightly different. The brightness of the screen also impacts the colour. It is extremely difficult to replicate a concrete colour on a computer screen. That is why colour swatches online should only be used a guide due to the variables in devices and the way they present colours.

All three monitors and two phones display the exact same page and colour selection from our CCS website colour page. The colours on the two left monitors are distinctly warmer than the colours on the right monitor. As you can see the brightness of screen is also impacting on how the colours appear.
Different computers, screens, operating systems, phones and even web browsers have different colour characteristics.
Texture and finish
There are a variety of textures and finishes with different installation methods that can create the final look of your concrete. It is important to consider these aspects of your concrete surface when choosing a colour. If you are thinking an exposed aggregate or polished floor, the colour of the aggregate within the concrete mix can influence the colour of your concrete.
Smooth floor finishes, such as polished or honed concrete, are best for internal applications; while more textured finishes, such as broom or exposed aggregate are best for outdoor applications.
Some of the popular concrete finishes include broom, polished, honed, exposed and coving trowel. Below showcases other popular finishes that can be applied when laying new concrete.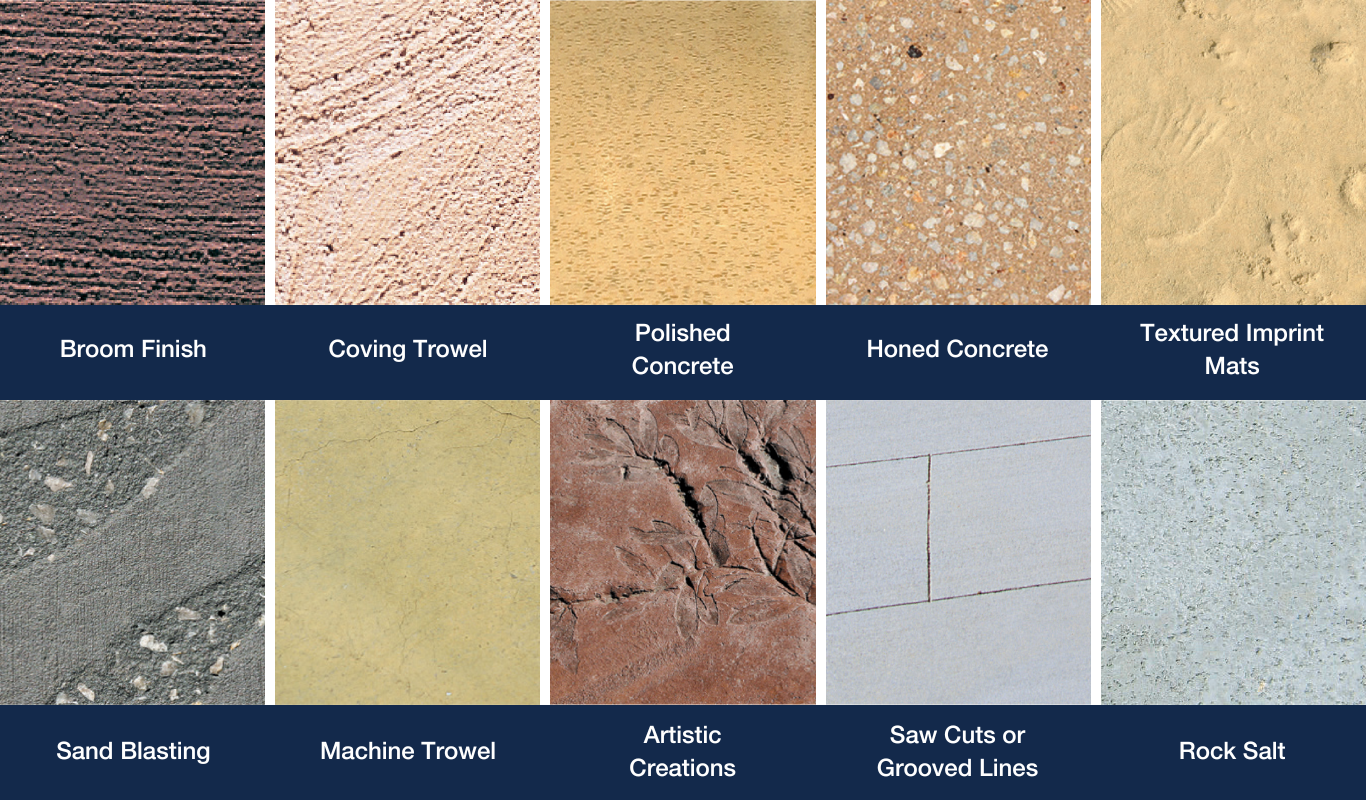 Existing furniture and fixtures
When renovating a home, there is a range of key furniture and fixtures which help to establish your colour scheme. Considering both indoor and outdoor furniture and fixtures will help you choose the best concrete colour. Additionally, any existing landscaping can influence the final colour of your concrete.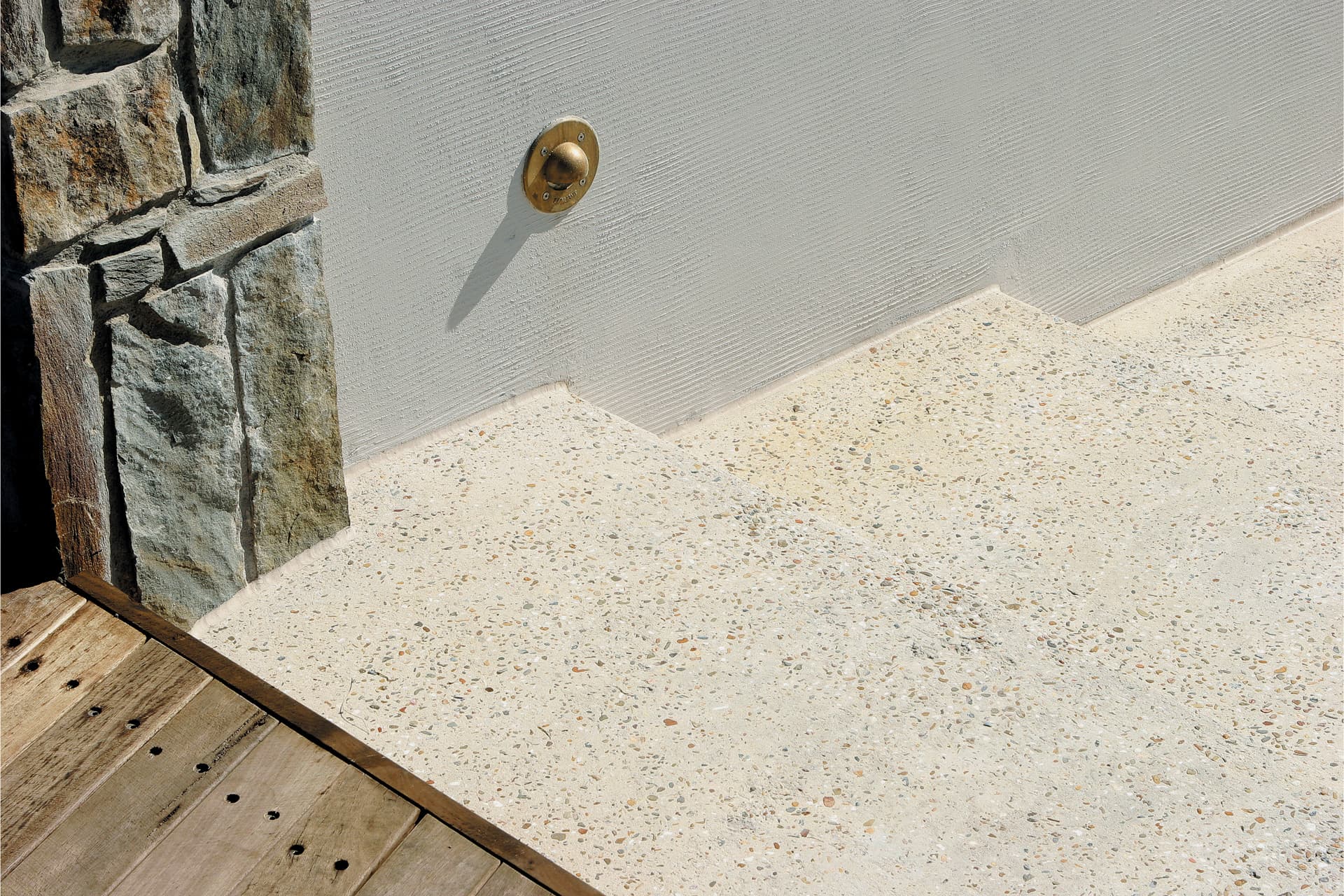 Building materials
Whether you are building or renovating, the use of different building materials to create a modern design can influence your colour decisions. Natural building materials like timber and stone can create a dramatic contrast against your coloured concrete. Adding steel into the equation can create an industrial look and feel against decorative concrete.
Resale value
If you are working on your forever home, your colour choice will most likely be based on preference and the above points. However, when considering the resale value of a house, neutral colours that are timeless and fresh tend to be favourably viewed by property valuers.
Start your colour selection journey today with a Concrete Colour Systems true-to-life colour card. Get in touch with us to get a colour card posted to your home.