Everything you need to know about colour, texture, sealers, maintenance and price.
So, you are trying to work out if a coloured concrete driveway is for you or you have already made your decision to add one (good choice!) but are wondering about the design and durability of it. If this sounds like you, you have come to the right place.
As the experts in colour and concrete, we know a thing or two about designing a driveway that looks good and is made to last.
To make it easy, we've broken down our top five considerations that we hope will help inform your decision. And if by the end of this post, you still need some answers, send us an email here or give us a call and we will happily help.
Our top five considerations:
1. Bring life to concrete by adding colour
Adding colour to plain grey concrete brings life and vibrancy to driveways so they tie in beautifully with every home. We have many high strength pigment colours available to choose from so there is sure to be a colour that you love and matches perfectly with your home. You can discover our range of colours here. Please note, we strongly recommend you view a site sample from your applicator before you confirm any colour decision.
If you're unsure what colour to choose, take notice of the colours on the outside of your home. Are they warm or cool-toned? Pairing colours with similar undertones often works. For example, if your home is a beige or cream tone, choosing a colour such as CCS Drover's Dust (a warm mid-brown) will look beautiful. At the same time, the boldness of cool-toned charcoal will provide a great contrast with cream.
Grey tones are a popular choice and the CCS range of Concrete Pigments offers a variety in warm (brown), cool (blue) and neutral toned greys. Below is an example of the difference that can be found between the different tones. View the full colour range of CCS Pigments.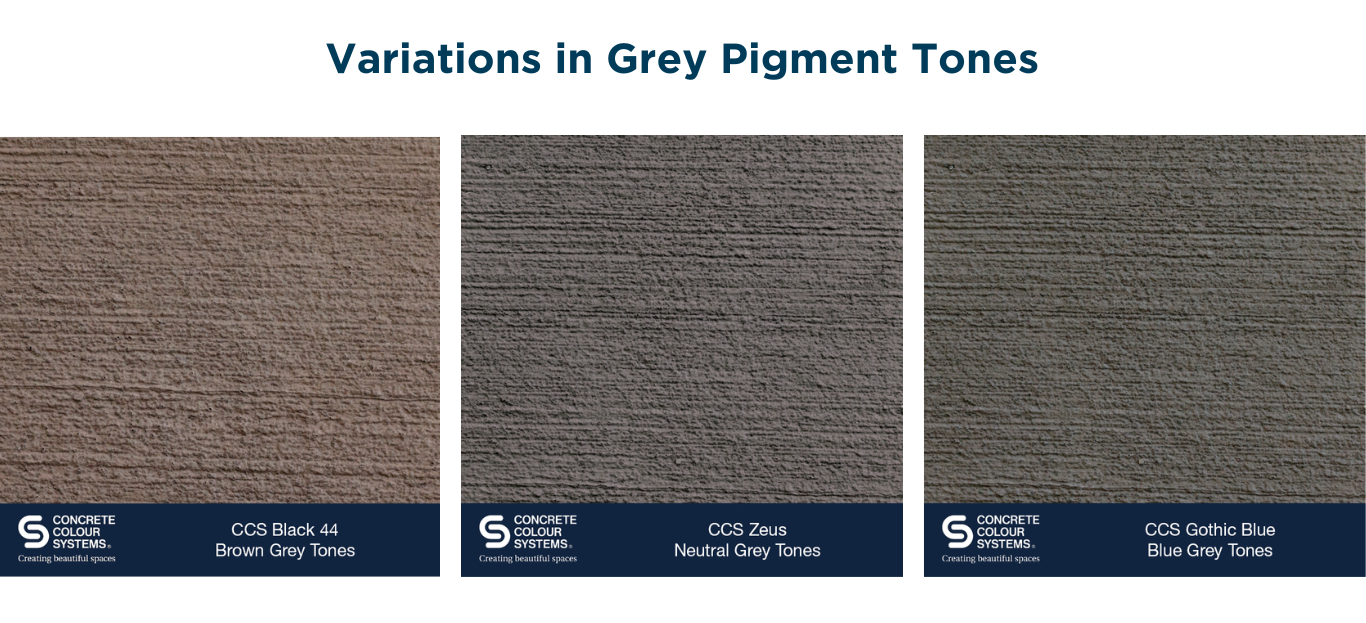 A common question that is often asked is if coloured concrete fades. Our pure, UV resistant pigments are mixed in with concrete so the colour is throughout the entire concrete slab and is made to endure. Mixing the colour like this means it is consistent across the entire surface.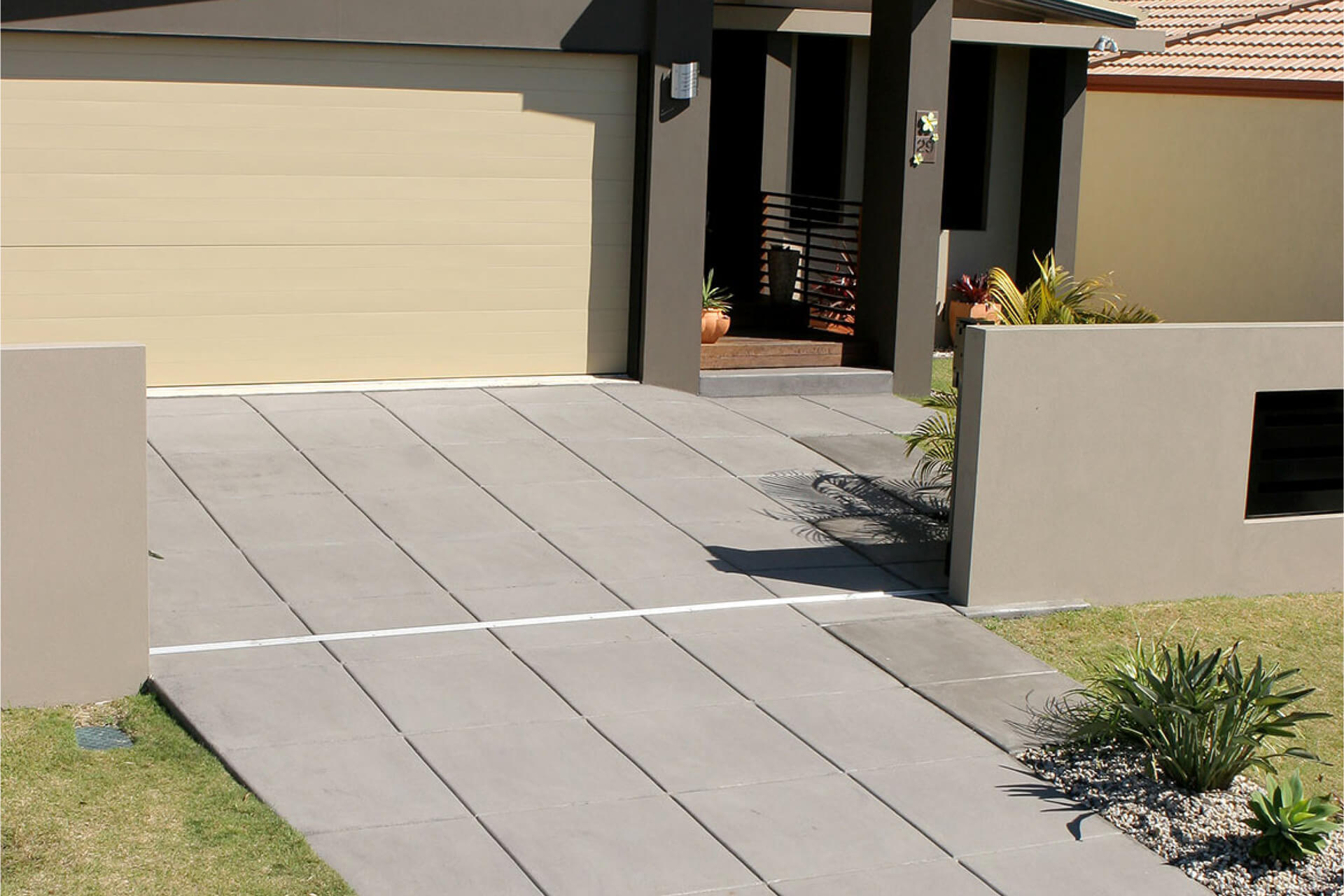 2. Add texture to achieve a multicoloured driveway with greater slip resistance
Concrete doesn't always have to have a smooth finish. There are a variety of textures and finishes available that will add interest to every project.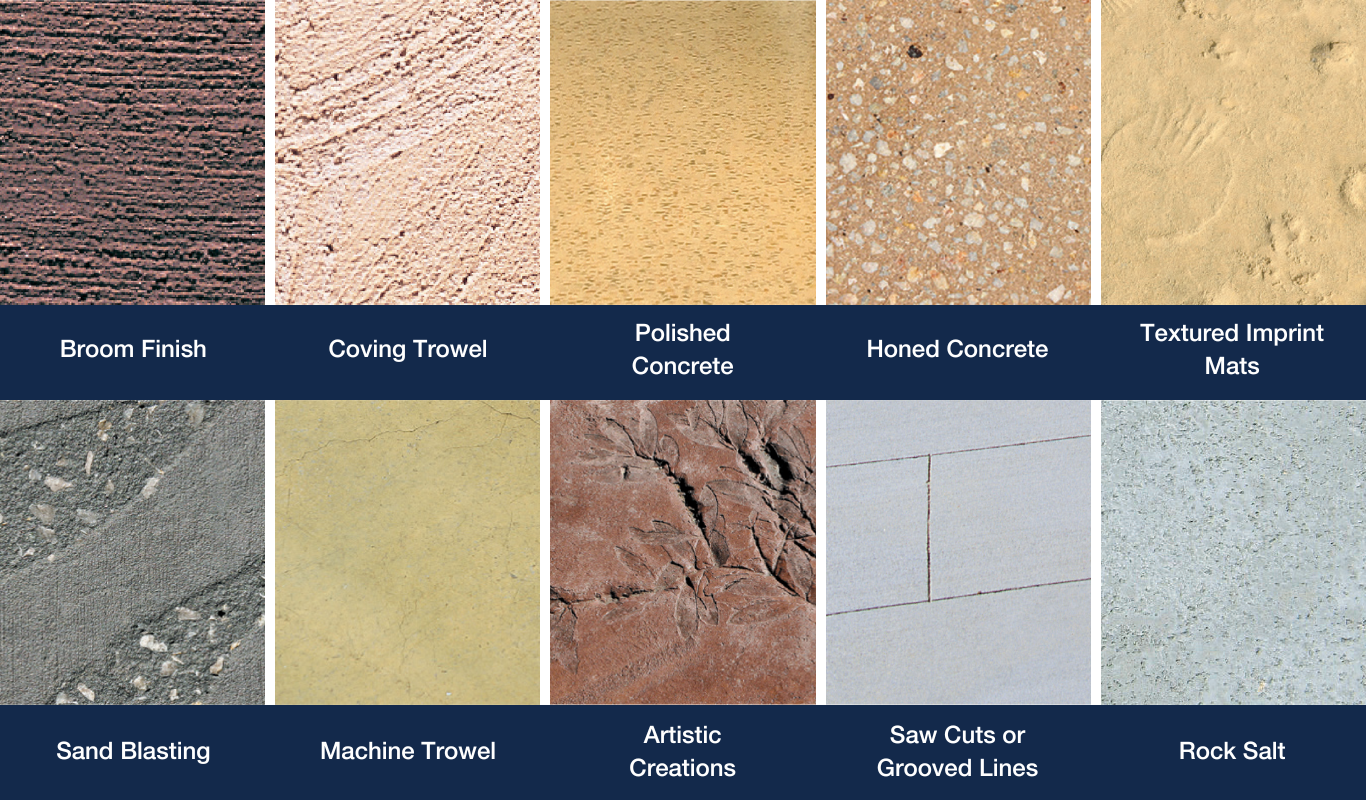 A few popular textures are Hone and Seal, Exposed Aggregate, Broom finish and Sand Blasting. We have explained a few features of each finish below.
Hone and seal
To suit your home, choose the colour and shape of the aggregate used. Once exposed, depending on the colour of the stone, the entire surface may feel bright or darker. This finish is very elegant and feels beautiful under foot.
Exposed Aggregate
If you love texture and want a finish that has more grip, an exposed aggregate finish is for you. Ideal for use on driveways but also around pools, you can continue the look from the front of your house to the back.
Broom Finish
If you want one consistent colour with only a touch of texture, broom finish is the way to go. One of our most popular finishes, you will find this elegant finish on public footpaths, driveways and pool surrounds.
Sand Blasting
Why not have the best of both worlds? Sand blasting exposes part of the surface in beautiful textured patterns whilst the remainder of the surface is a solid colour.
3. Seal your driveway for long term durability
Protecting your surface is essential to make sure it looks fresh and attractive all year round. We have a range of sealers to suit your needs and overall look of the driveway. You can choose to preserve the natural finish of the surface with our penetrating sealers or enhance the richness of your colour with a surface coating sealer.
Sealing the concrete protects the surface from tyre marks, prevents oil and water-based spills whilst making it easier for you to clean. Plus, it will keep your driveway looking stunning so it remains the envy of your street.
Learn more about sealing your concrete.
4. A low maintenance solution
The great thing about sealing your driveway is that it makes your life easier when cleaning and maintaining the surface. Sealers are key to a low maintenance driveway. The sealer provides 80% of the protection so all you need to do is keep it clean and remove any spills as soon as possible. We also recommend resealing your driveway every two years to ensure it is protected so you can enjoy it for many years to come. That's why sealing is such an essential step – once sealed, it's much easier to clean your driveway and it will remain attractive for a long time.
5. Price depends on a variety of elements
The cost of a driveway varies depending on the colour, texture and sealer you choose as well as the tradesperson who is installing it for you. Another variable on price can be based on your home location. If you would like assistance in finding a skilled applicator in your area, please get in touch with us.
Coloured concrete driveways are durable, stylish and easily maintained which is why we and the rest of Australia love them. Remember to think about the colour, texture, sealer and maintenance schedule when looking to have your very own coloured concrete driveway installed.
If you would like to discuss your project or request a quote, please send us an email or give us a call.