Concrete floors are an ideal option in high-visibility and high traffic commercial spaces like retail shops, restaurants, offices, warehouses, and industrial environments. They are a durable floor which can withstand the higher demands of people and machinery with the use of high-performance finishes and sealers.
A new trend being adopted by architects and interior designers is incorporating a metallic epoxy floor within the space. Additionally, a high gloss polished concrete floor remains a popular choice for interior spaces.
Designers are often considering concrete floors for a variety of benefits:
Customisable for a variety of decorative effects
Easy to clean and maintain
Extremely durable floor
Can be installed to meet slip resistant requirements
Leaves a great first impression.
An added benefit of using concrete flooring options is that often the existing concrete slab can be used once the old flooring is removed. This provides designers with a range of cost-effective options that have a smaller installation time.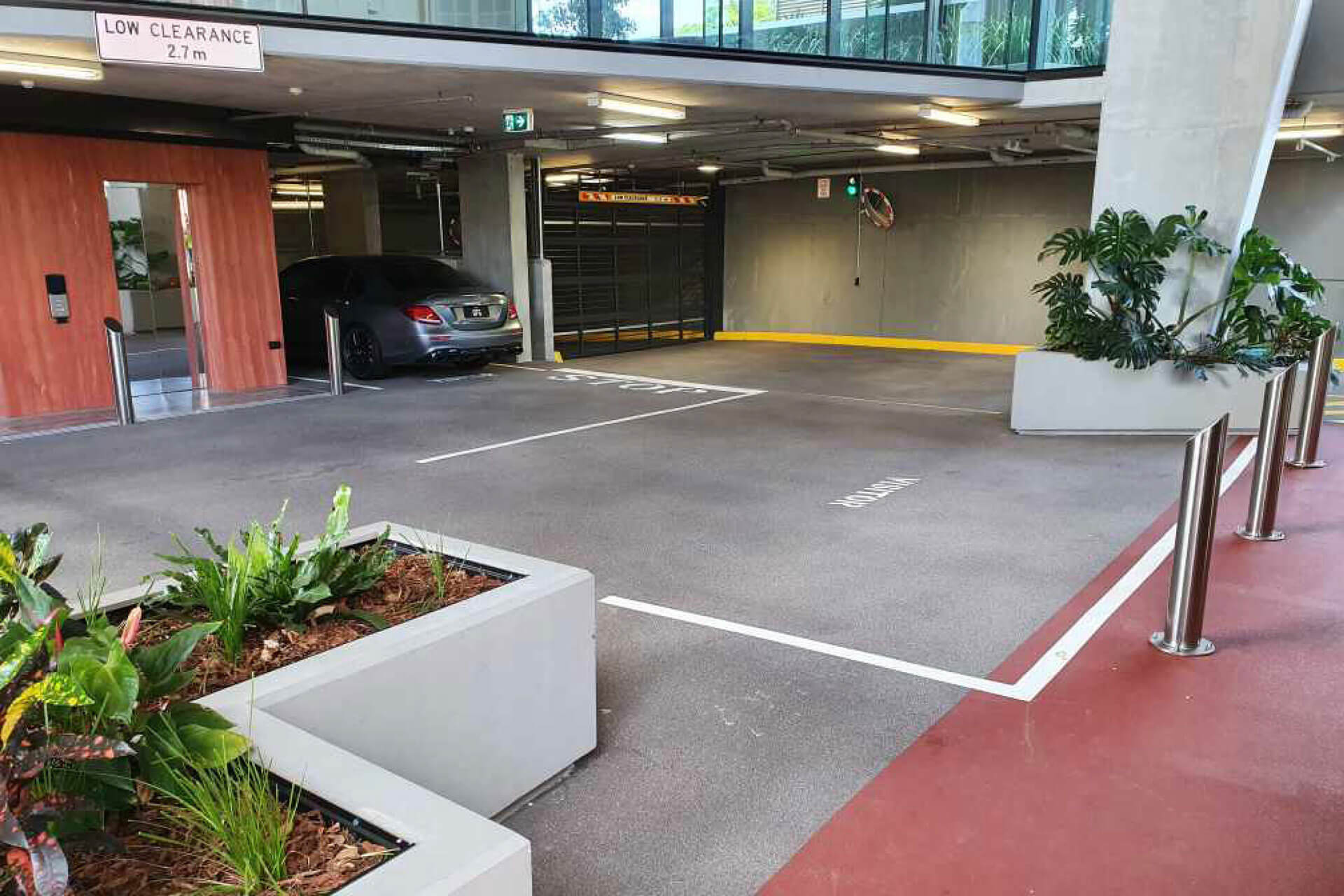 How do you decide if renovating the existing concrete floor is a viable option for your commercial space? Some key considerations to assist with this decision include:
The purpose and use of the space
Budget to update the floors and regularly maintain
Does it need to meet any safety requirements?
Will it look good?
Let's look at some of the more popular options for renovating interior and exterior concrete floors.
Interior floors
When considering renovating interior concrete floors, there are two surface finishes which are the most popular and as already mentioned a growing trend: polished concrete and epoxy floors, particularly metallic epoxy.
Polished Concrete
Polished concrete is a long trending floor finish and is used by interior designers, architects and homeowners for its aesthetic appeal and unique style. Polished floors look amazing and leave a great first impression; they are clean, professional and modern. It's easy to style a polished concrete floor with soft furnishings to create the right look for the environment. Additionally, there are a range of finish options and gloss levels to suit the style of the location.
Polished concrete floors are considered to be an eco-friendly option. They naturally reflect light, especially artificial lights, which makes them great options for darker spaces with minimal natural light. Meaning less electricity is used. An existing concrete slab can be updated to a polished concrete floor which eliminates costs and resources for producing a new floor. Additionally, concrete is considered a thermal mass as it holds and releases heat effectively, making the space more efficient to heat and cool.
This indoor option is extremely durable and robust, it is difficult to damage or cause abrasions on the surface. Meaning a polished concrete floor requires very little maintenance, is easy to keep clean and will not need replacing. If slip hazards are a concern, there are ways to modify a polished concrete floor to improve the slip resistance level and meet any specifications.
It is important to note, that not all existing concrete slabs can be updated to a polished concrete floor. This is dependent on the severity of any damage found; some problems like cracks, delamination and dusting can be fixed, while structural damage is not so easily fixed.
Epoxy Floors
Epoxy floors are designed to protect or enhance the concrete floor by preventing deterioration caused by oils, chemicals, water, and grime. This makes them a great flooring solution in manufacturing plants, storage, warehouses, and commercial kitchens. Epoxy floors a versatile two-part system which is resistant to mould, bacteria, germs, chemicals, water and heat – making them easy to clean and maintain. They are also a very durable flooring option which can withstand heavy impacts, the use of machinery like forklifts and are difficult to chip, crack or scratch the surface. Although durable an epoxy floor can wear, and therefore requires a recoat every couple of years to maintain the strong level of protection.
Epoxy floors can also be a creative option for renovating, as you can add a variety of colours to the coat, coloured flakes can be sprinkled over the surface or metallic pigment can be added to create a truly bespoke finish.
Exterior floors
Exterior concrete floors are commonly faded and worn due to the constant traffic; however, it is possible to bring back colour and life through the use of a increasingly popular finish, Stylepave Overlays.
Stylepave Overlays
When it comes to renovating concrete outside, a flexible and cost-effective solution is to resurface it. Using a product like CCS Stylepave Overlays can transform any existing concrete into a designer floor. With a range of colours, textures, and customisable patterns, it is possible to rejuvenate old or grey concrete to complement the existing décor and environment. This versatile finish is extremely hard-wearing and is suitable for both pedestrian and vehicle use, making it ideal for a range of commercial and residential applications. It is also a low maintenance solution which is UV resistant, maintaining the vibrant colour and can be customised to suit necessary slip resistant ratings.
When considering renovating an existing concrete floor there are a range of finishes available to match the desired look and feel. Polished concrete and metallic or flake epoxy floors are ideal for interior environments, while exterior floors can be covered with Stylepave Overlays. If you have any questions about our range of products for renovating concrete floors, please email, call or jump onto live chat.