Make your dreams of a friendly and inviting entertainment home into a reality. Integrate modern design elements with the concrete in a range of colours, textures and finishes to make your home an entertainer's sanctuary. From the front gate to elegant alfresco dining spaces, we have brought together some of our favourite guides to creating the perfect home for hosting guests.
Pathway
While your pathway may not typically appear to be an accommodating area, it's a space that sets the mood for the rest of your home. Make your guests feel embraced from the moment they step through your front gate. A beautifully maintained concrete path with some adorning pots will emote a feeling of delicacy and care to your entrance. Add some bright greenery in your concrete planters and along your honed or exposed path to emphasises a modern and luxurious feel.
Open Plan Living
Connect your exterior to interior by incorporating a similar concrete flooring choice. From a honed finish outside, to a polished concrete inside, you will be ensuring a level of style that is seamless throughout your home. Polished concrete floors are a sure-fire way to wow visitors in your home. From a low sheen to a high gloss, this flooring system is the ultimate floor in your entertainer's deluxe home. Its strength and durability take the stress off you as you don't need to worry about spills, stains or scratches.
An open plan living home is inviting, relaxing and highlights all the beautiful décor. Pair your polished concrete with some high ceilings and textured furniture to express the character and comfort of your home.
In the kitchen
It can be said that the kitchen is at the heart of any home. Ensure your kitchen is a friendly and inviting space by incorporating concrete into your area with a statement island bench. Entertaining from your kitchen will be a dream. Integrate natural timbers with your concrete bench to deliver a rustic and modern ambience, with a warm and intimate feel. Pair with warm lights over the island bench to bring a cosy mood to your kitchen. Reflect your personal style and unique taste to your kitchen with a selection of colours available here at CCS.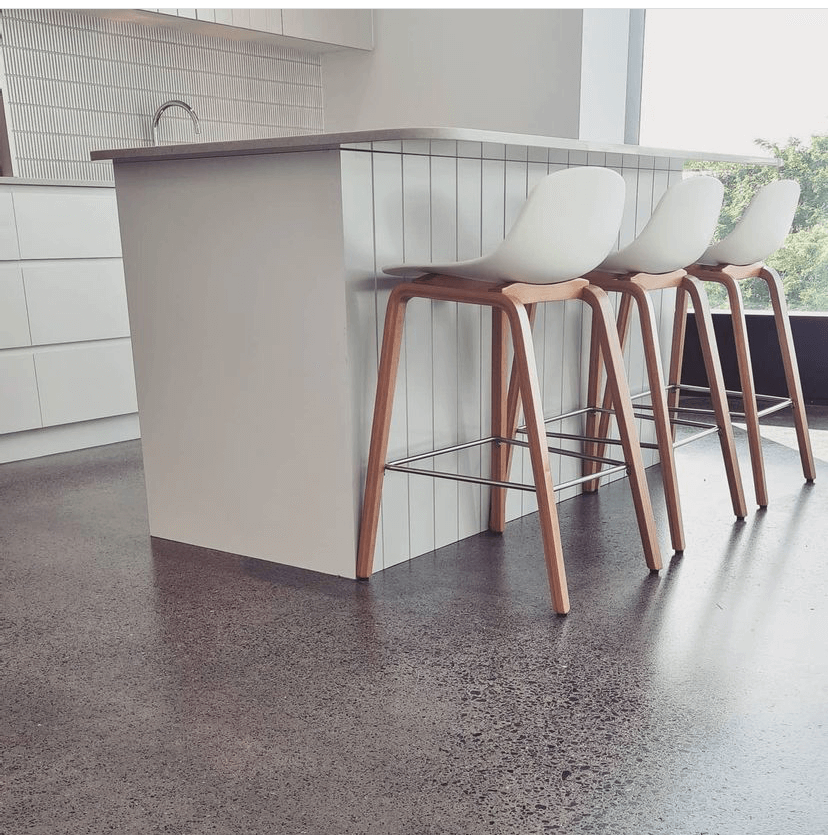 Alfresco dining
Here in Australia, we are blessed to have some of the most beautiful weather for outdoor dining. Take advantage of the great outdoors with a fantastic alfresco entertaining area. Draw your guests outside with multiple areas where discussion can freely flow. A concrete bench seat will reflect your internal flooring elements and offer extra seating options for you and your guests. Carry this industrial and modern feel through to an outdoor kitchen space. For the cooler months, enjoy the use of a fire pit to increase the warm of your space.
Integrate your entrance, indoors and outdoors entertaining area with stunning honed concrete. The smooth and luxurious finish of honed concrete will add a soft touch to your area.
Get the most out of your concrete
Keep your concrete looking beautiful all year round by using our CCS sealers. Whether it is for your indoor or outdoor areas, we have a sealer that will be perfect for you. Retain the natural and beautiful colour of your outdoor entertaining area with the use of a penetrating sealer. This range of sealers are low sheen and offer protection against staining and water ingress. Sealing your concrete with a penetrating sealer will provide you with protection against the realities of entertaining.
For your inside floors, opt for a film forming sealer that will provide you with high endurance and easy maintenance, as painless as possible. You can choose your level of shine, from low to high gloss depending on the mood of your home. View our range of sealers here.
Make your home the ultimate entertainer's delight by integrating concrete into your home. The unique properties and range of finishes concrete offers, makes it the perfect material to flow from the front entrance, through the main living and kitchen, all the way to an outdoor area. The consistency and easy maintenance of this system offers you a glamorous feel in any area. Check out our gallery here for inspiration for your home.