The benefits of an epoxy flake floor in your home
Make an impact with CCS Galaxy Flake Floor and transform your plain concrete into a stylish, attractive, and durable surface ideal for a variety of purposes.
Designed with flexibility and durability in mind, the Galaxy Flake Floor system consists of decorative acrylic flakes embedded between a tinted base coat and clear topcoat. You can choose the density, type, and colours of the flake so your floor is personalised to best suit your needs, whether that be a standard flake floor or a floor with the aesthetics of natural stone.
Get a personalised quote today for a Galaxy Flake Floor in your home
Standard colours
The standard colour range is suitable for a variety of applications, featuring a selection of tones to suit the colour palette of every space.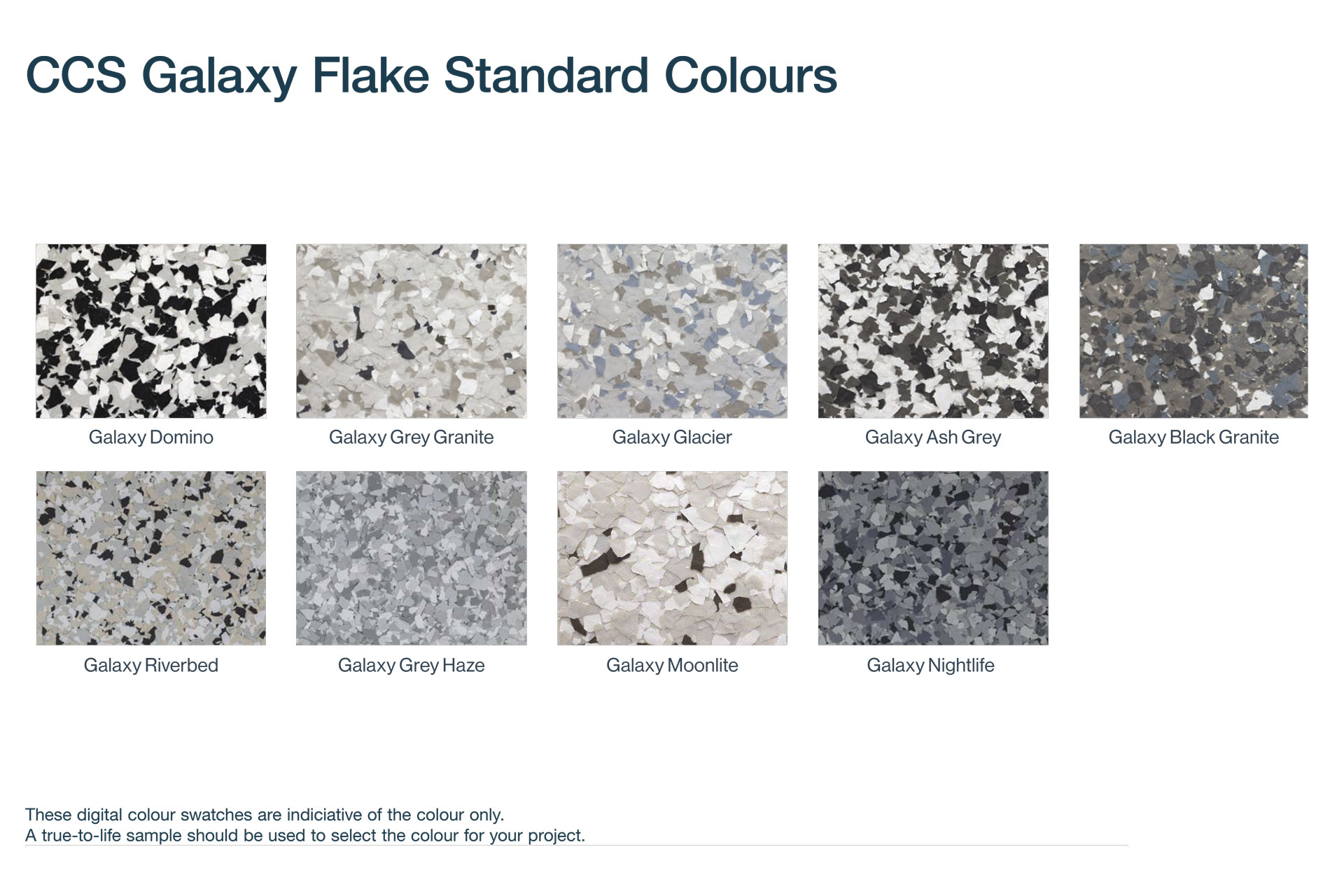 Primary colours
For a truly bespoke custom floor, include one of our primary coloured flakes to the standard colour range.
Granite stone colours
The CCS Natural Granite Stone Flake is an on-trend and distinctive flake floor providing the appearance of a chic polished granite stone floor. This product affords a high-end look that will be the envy of those who see it whilst still delivering all the benefits of a traditional flake floor. It's a great option if you are wanting a natural stone floor without the high price tag.
Get a personalised quote today for a Galaxy Flake Floor in your home
The advantages of having an epoxy flake floor
Durable: it provides superior chemical and abrasion resistance
Decorative: our range of on-trend and custom colours will enhance and complement the environment
Economical: a cost-effective option when compared to pre-engineered flooring
Safe: provides a textured surface that increases slip resistance
Seamless: provides a wall to wall seamless surface that can't collect dirt, moisture or germs
Low sound: the seamless and flexible surface reduces the noise of foot traffic and carts
Renewable: your floor can be rejuvenated after years of use by sanding and resealing the surface.
Easy maintenance: it is easy to clean and maintain your flake floor.
A Galaxy Flake Floor can be tailor made to meet specific requirements for each project so that various factors such as environment requirements, appearance, texture, and gloss level can be achieved. There are a range of ideal applications, which include:
Garages
Patios
Multi-purpose rooms
Gyms
Locker rooms
Offices
Warehouses
Laboratories
Retail shops
Health facilities
Educational facilities
Showrooms
Kitchens
Laundries
Looking for more inspiration for the use of a Galaxy Flake floor, explore our gallery page.
Having an epoxy flake floor in your home is a low maintenance, cost-effective and decorative option when renovating existing concrete. Get a tailored quote today for a Galaxy Flake Floor in your home, send us an email or give us a call.