Flake is made from specially formulated polymer paint aggregates and is used to enhance the aesthetic and ergonomic quality of resinous flooring systems. They are available in a wide variety of colour options and sizes and can be customized to complement or influence any space.
When using flake to create a decorative seamless floor there are a few practices that can be used to ensure a positive outcome. These include:
Purchase a quality flake blend.
Not all flake is equal, poor-quality flake is likely to react with the epoxy base coat and curl up. This results in poor coverage which usually requires patching and the need to sand prior to applying the topcoat.
Mix flake thoroughly before using.
Smaller pieces of flake migrate to the bottom of the box during transit, so it is imperative to mix each box thoroughly to achieve consistency.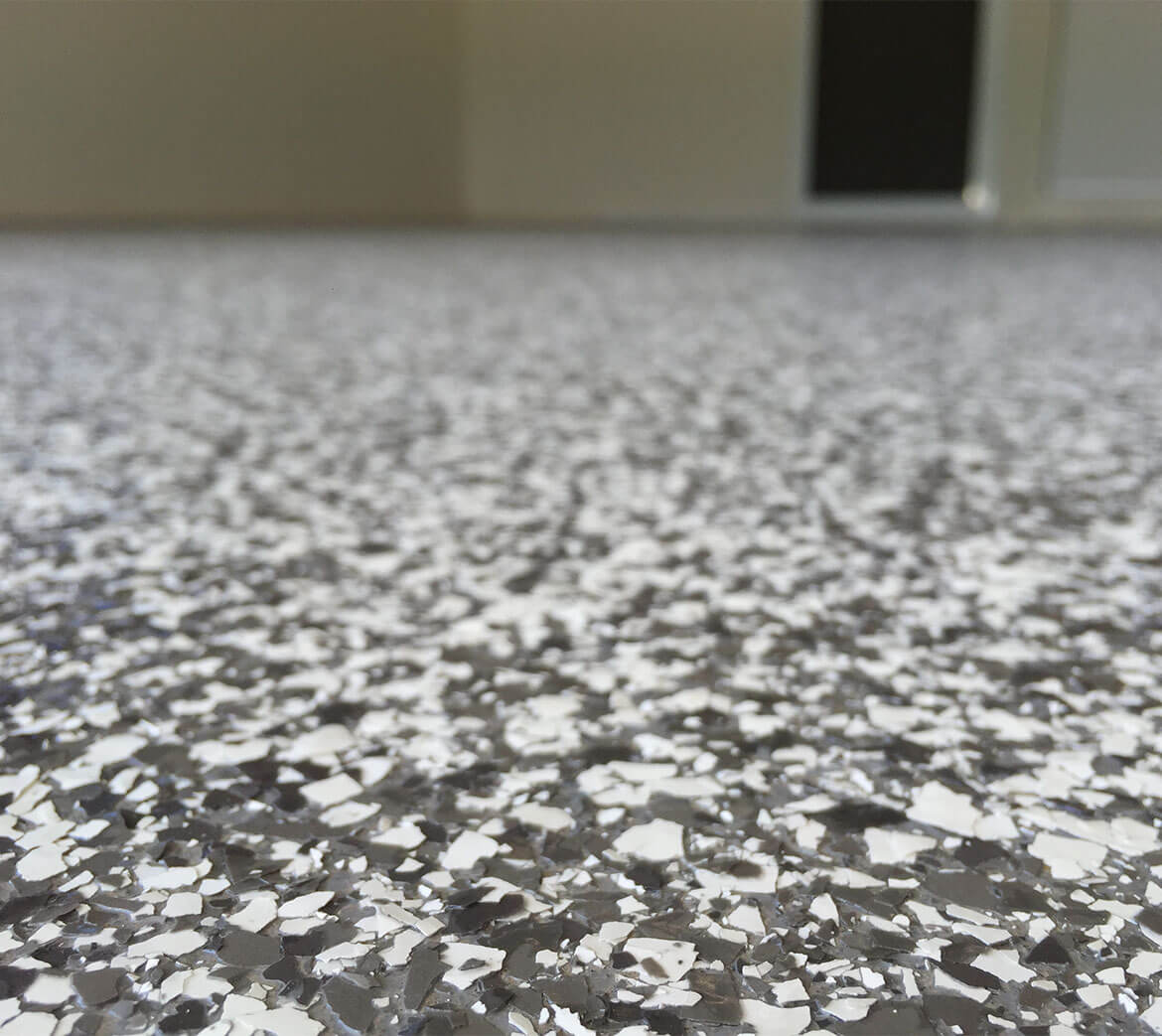 Estimate how much flake you will need for the project.
Remember to add another 10 percent to the total, ensuring you have enough to complete the job. Coverage rates vary depending on the desired look. Generally speaking, the rates are:
Light coverage 150 grams to 1m2
Medium coverage 250 grams to 1m2
Heavy coverage 350 grams to 1m2
Total coverage 450 grams to 1m2
Broadcast the flakes into the epoxy base coat.
This needs to be done as soon as possible after application and whilst the epoxy is still wet and sticky to ensure high strength adhesion.
Remove any unbonded flakes.
The removal of unbonded flakes should occur prior to applying a topcoat. It's also a good idea to scrape the floor to remove any flake that may be sticking up.
Sandwich the flakes in.
Use a good quality UV-resistant topcoat to provide a high level of protection and easy ongoing maintenance.
Our Top Tip on Using Flake
The best way to achieve good consistent coverage is to place the flake into a clean empty pail then throw them up into the air. This helps to loosen the flakes from one another and scatter them before they come back down and land into the epoxy base coat in a uniform manner.
Important: do not throw the flake in a downward motion directly into the epoxy.
Browse our range of flake colours and mixes.